This post has been compensated by Collective Bias, Inc. and it's advertiser. All opinions are mine alone.
I try hard to curl my hair every morning before work. I also try to gulp down one cup of coffee when I'm getting ready, but it's impossible to curl my hair and drink coffee at the same time. I'm an amazing multi-tasker but even I have limits. And then enters some amazing tools: the Infiniti Pro by Conair® 3Q Brushless Motor Dryer and the Infiniti Pro by Conair® Curl Secret®. The curl secret draws the hair up into the chamber and then works its' magic. You can set the heat to high or low as well as the time for how long you want it to hold your hair (8, 10, or 12 seconds). Get loose or tight curls depending on the time and heat.
I started by using the Conair® 3Q™ Brushless Motor Dryer and I couldn't believe how quiet it was! It also cut down my dry time which anything to shave off minutes in the morning is a huge bonus to me. After brushing out my hair and clipping up the top section, I took a 1 inch piece and placed it into the curl secret. Pressing down, the hair is drawn into the chamber. I will tell you there is a learning curve to using this. One side of the curl secret says in big bold letters to keep "this side towards head". I would listen to it if I were you or you may end up with some tangles. Once you get past the awkwardness of holding your hands the right way, it will be easy! Short beeps occur until the curling is over. Gently pull out the curl and let it cool before combing or separating with your fingers. Keep it down or add a bobby to pull back loose curls! Perfect curls in 10 minutes or less!
Wanting one for yourself? Head over to WalMart to pick up these beautifying tools!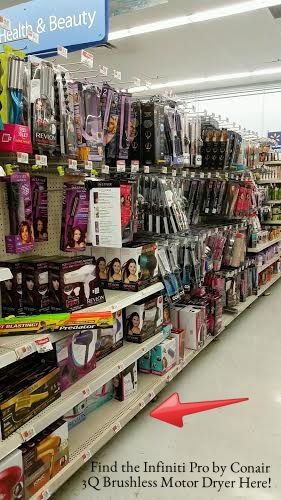 #HeartMyHair #CollectiveBias
https://www.blogger.com/blogger.g?blogID=5263545296108138557#editor/target=post;postID=6097752505672053748;onPublishedMenu=allposts;onClosedMenu=allposts;postNum=3;src=postname