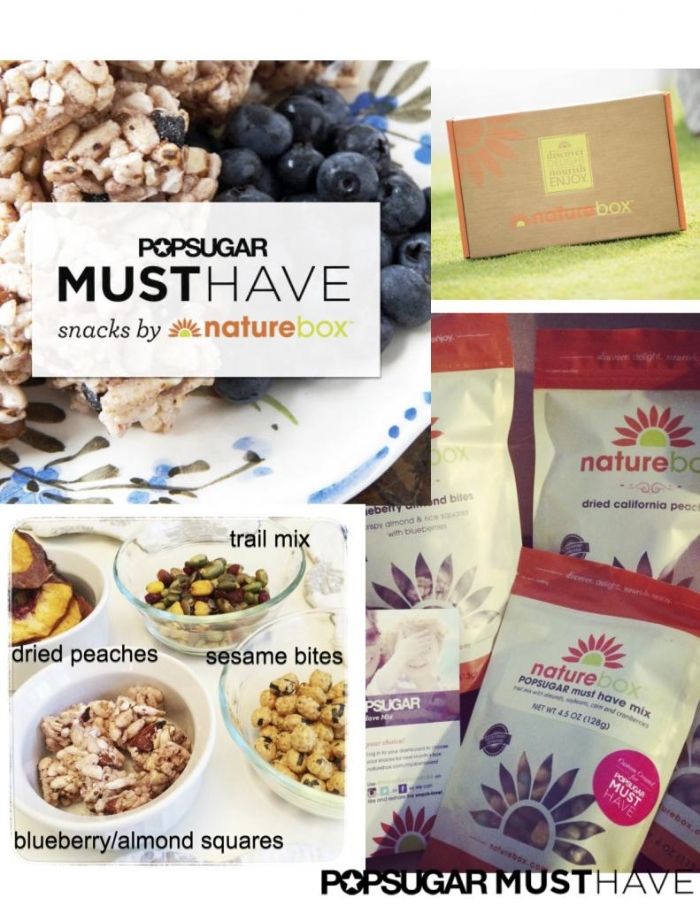 I'm always on the hunt for healthy snacks. Especially now that I'm back on track and exercising (for a whole 3 days-look out!), I'm way more hungry after working out. It's easy to take a wrong turn and gorge on whatever is in plain sight so I was so excited that POPSUGAR (my favorite lifestyle websites) chose me to review their new collaboration with NatureBox on a home delivered box of healthy snacks that comes right to my doorstep. In the box, I was given 5 different snacks to review. I recruited some friends to have a tasting party and honestly we loved them all! In the box came:
1. Lemon Pucker Pistachios
2. Blueberry Almond Bites
1. Nuts are a great snack to incorporate into your day. They pack some protein so can be filling and satisfying. These pistachios were LEMON-Y! Such a unique combo but I really enjoyed them. Grade: B+
2. The blueberry almond squares were my favorite. These bite sized goodies had just the right amount of granola and fruit taste. They were light and refreshing and I almost ate the whole bag in one sitting. Grade: A+
3. The seaweed poppers surprised me. I wasn't sure seaweed would be appetizing even though I've heard the benefits of it. They are a cute little poppable bite with the perfect crunch and sesame-like flavor. I could see these being a huge hit on a bar cart with cocktails. Grade: A
4. This was an interesting combo for trail mix. It has almonds, soybeans, corn, pumpkin kernels, wild rice sticks and cranberries. A little bit salty and a little bit sweet-it has a great crunch for sure.
Grade: B
5. Dried peaches: I'm not a big fan of dried fruit but my friend Gina thought these were great. Sweet and chewy and I love what I saw when I looked at the ingredient list: Peaches. period.
What I love most about NatureBox is that no matter the snack, the ingredients are pure. What you won't find in their products:
NO Artificial Flavoring
NO High Fructose Corn Syrup
NO Artificial Sweetners
NO Partially hydrogenated oils
They have Registered Dietitians on staff to help develop these naturally delicious snacks.
Have a health concern? They've got you covered, offering snacks that are gluten-free, dairy-free, nut-free, vegan, etc.
With all the overwhelming information floating around about "natural" and "organic", it's nice that NatureBox's website has it all explained for you. I can appreciate that in a company as I myself am more concerned these days as to what chemicals I'm putting on and in my body.
What's more exciting? For a limited time the POPSUGAR MustHave Snacks by NatureBox is 50% off! Follow this LINK to order yours and feel good about the food you are putting in your body!
POPSUGAR and NatureBox provided me with a complimentary POPSUGAR Must Have Snacks by NatureBox box. The opinions I have shared about the box are my own, and POPSUGAR and NatureBox did not tell me what to say or how to say it.