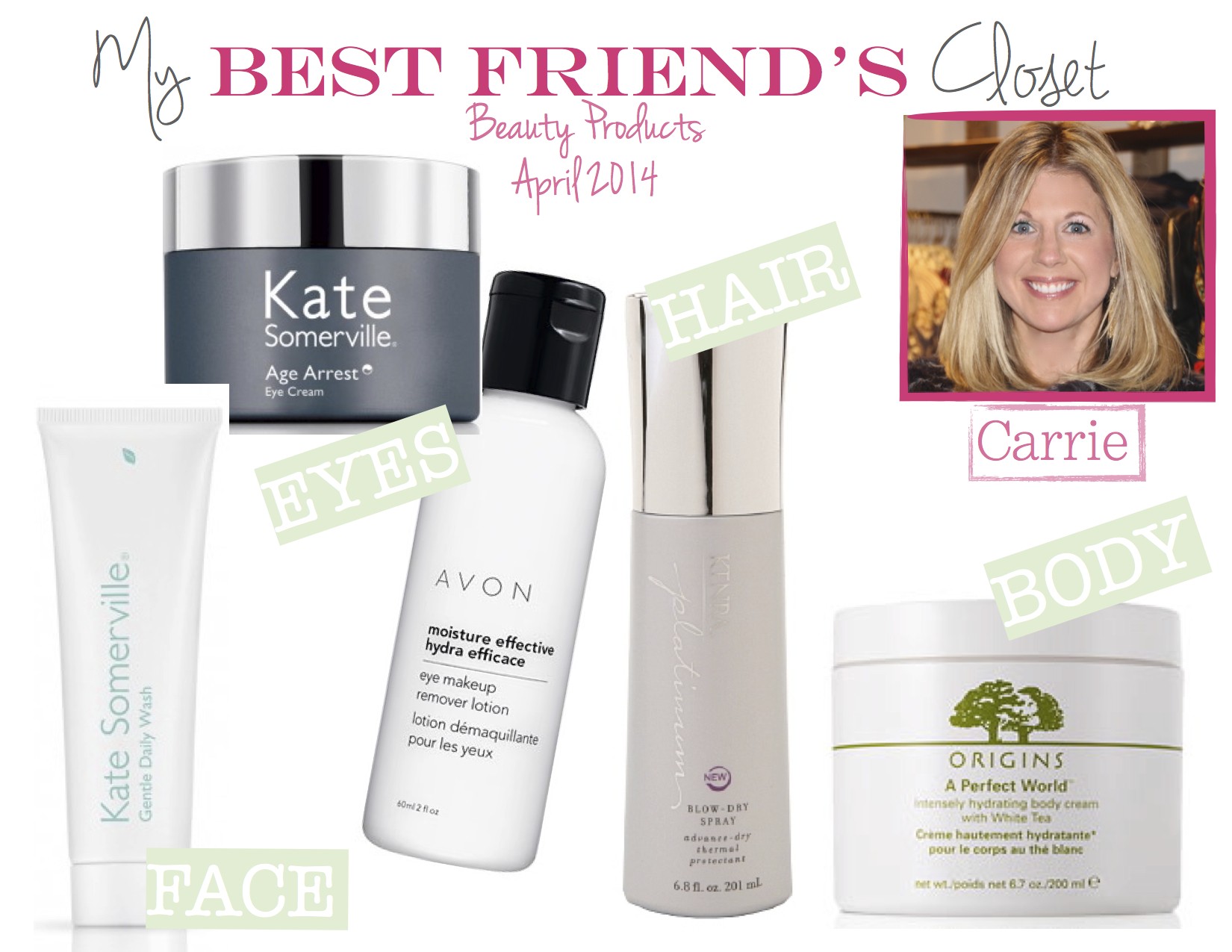 Do all best girlfriends take pictures of their new beauty products and text them to each other or only the obsessed? I was more than excited to hear about the new Kate Sommerville products Carrie bought after that text picture came through on a Wednesday night. I myself had been on a product kick. Maybe because Summer is coming (it
IS
coming, right?) and I want to figure out how to get the best natural glow. I asked Carrie what's new in her skincare lineup but also her favorite oldies but goodies. Apparently she is also on a product kick as well. Or maybe this is how we are all the time. Product junkies. I could think of a worse kind of junkie to me. Which leads me to my aside…I'm now obsessed with Nurse Jackie. Anyone watching it? So good! ok-back to products…
EYES: Carrie has been searching for a great eye cream for awhile. She tried my favorite (see here) but has been noncommittal. Then she bought this KS age arrest and swears by it. Nice and creamy, spreads easily, absorbs well and is moisturizing. Her oldie but goodie: Avon's lotion eye makeup remover. It's stood the test of time for her product list. She states it is the BEST for gently removing eye makeup with out being irritating and is only $4.00. Yes-you read that right!
FACE: Both Carrie and I have a hard time finding face washes that won't dry our skin and give us that tight feeling afterwards. This KS daily cleanser is moisturizing and removes all the dirt and makeup a girl could ask for!
HAIR: So I never use a product to decrease my dry time, but I also have fine hair that dries quickly. Carrie does not. Her thick curls needs to be blown straight and having 2 kiddos to also get ready in the morning, does not allow for luxurious prep time. She swears by the Kenra platinum fast drying spray. Cuts down dry time in half!
BODY: Carrie and I both have an Origins oldie but goodie skincare staple. Mine is here and hers is The Perfect World body butter. I love the smell and it gives a glow to your skin without being greasy. It lasts forever unless you gob it on, which unfortunately we both tend to do with our products.
I've made it super easy for you to find these products online. Click on the picture above or shop the post below and give these products a try!