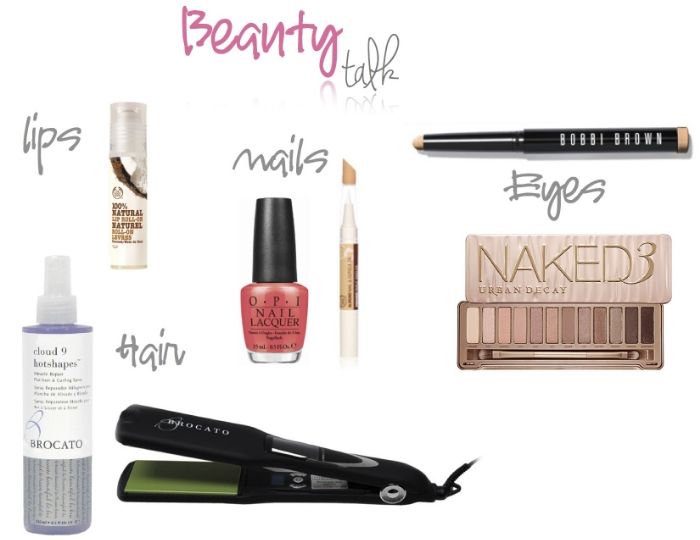 Devouring new beauty products is a pastime for me. When in Vegas, I couldn't help quizzing my girls about what they had in their make-up bags. I've been on the loose curled bandwagon for awhile but I had to try out the Brocato straightener that Carrie has. An unique feature is the vibration it makes while straightening in order to prevent kinks. Possibly a gimmick, but I loved how my hair looked afterwards. And yes, it was kink free! I coincidentally had the Brocato cloud 9 hotshapes thermal protecting spray in my bag. It makes for a perfect combo!
Another beauty must have for me is bright bold lips for nighttime. I wanted to go with a neutral for my lids and I got to play with Carrie's BobbiBrown Long Wear Cream Shadow Stick in 24K. I was amazed at how long this shadow stayed on my lids. Perfectly in place the next morning. (shake your finger at me for not washing my face before bed) It never creased and was a really eye brightening color. Would be buying this for my own makeup bag-except it was limited edition and they don't have it anymore! Why do you do that to us Bobbi?! The Naked palette is always a good bet though for pretty neutrals. Naked 3 is the newest version and I'm sure just as good as the other 2.
What do you do when you are stuck in an airport for hours on end with nothing to do? Head to The Body Shop of course! I hadn't been in one of these stores in a very long time, but I had so much fun shopping around. Were you a fan of the lip smackers roll on lip gloss as a child? I have a soft spot for those cute little pocket glosses so I had to buy this coconut flavored one for $3.00. Another purchase that I just had to have was the almond oil cuticle stick. Click it like a pen to dispense the oil and brush on nails. All of my other nail oils are in containers and this is something I can easily do wherever, whenever. Keep your eyes peeled for my Feb. 5th post when i unveil the Rio collection from OPI. This coral color will definitely be on your must have list for Spring!