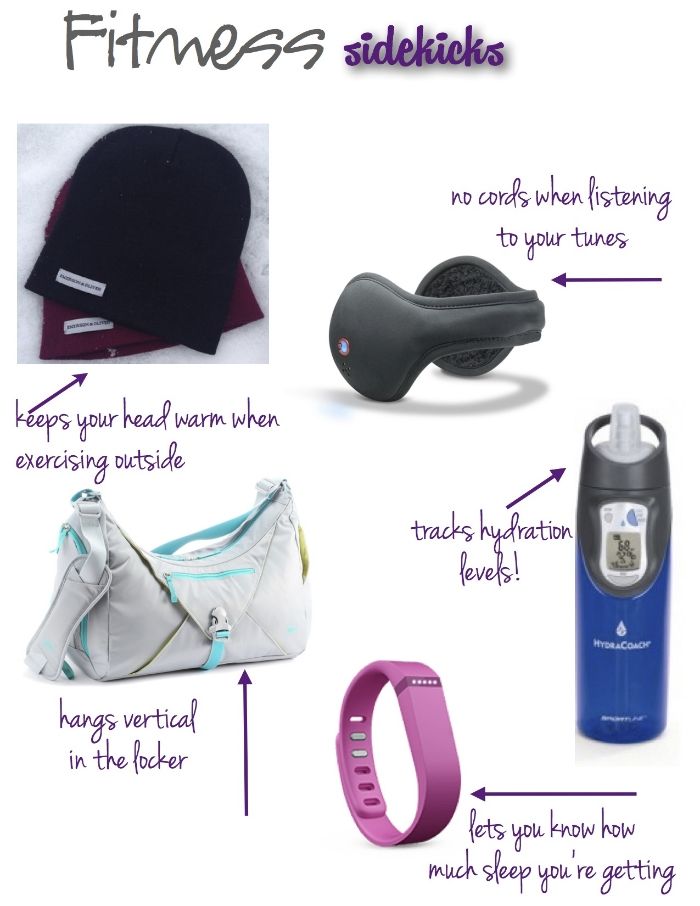 I guess this week is Fitness week on the blog because I can't stop thinking about how I'm going to get ready for my half marathon in April. I wanted to start training in the beginning of the month but the cold temps have left me less than motivated. On Monday, I talked about cute fitness clothes and today it's all about the accessories!
I don't know what I do when I'm running, but I'm always yanking at my headphone cords. Not a problem anymore with my 180s Bluetooth earmuffs. My ears are warm, my music is pumping and my phone is in my pocket without a cord to be seen. Sarah told me about this gym bag that is genius. It hangs vertical in the locker so you have easy access. Bonus: there's a separate place for your sneakers so they don't dirty the rest of your goods.
Has anyone heard of this auto water bottle??!! I'm NEVER drinking enough water. So maybe if I have a water bottle beeping at me and reminding me to take a drink, I'll actually do it.
Something I'm sure you have heard of…the fitbit. Wear it on your wrist morning, noon and night, it will let you know pretty much everything. How much REM sleep you got, how many steps you took, and how far you've traveled. Tory Burch is collaborating for a new line this Spring. Can we get it with sparkle Tory?
You know I love the beanie my Mom made me but this Emerson and Oliver one is so comfy, warm and flattering. I kinda felt like an instant snowboarder when I put it on. Speaking of snowboarders, can I have the happy pills those Olympic girls are taking? They seem so chill, happy and supportive of each other. Like they are just there to have fun. I have not seen another athlete doing a shoulder shake to the jams while waiting to see if she won a Gold medal. Love them…
So if you want to look like a chill, Olympic snowboarder girlie, enter below for your own E&O beanie! One size fits all and you can pick black or oxblood if you win!
a Rafflecopter giveaway