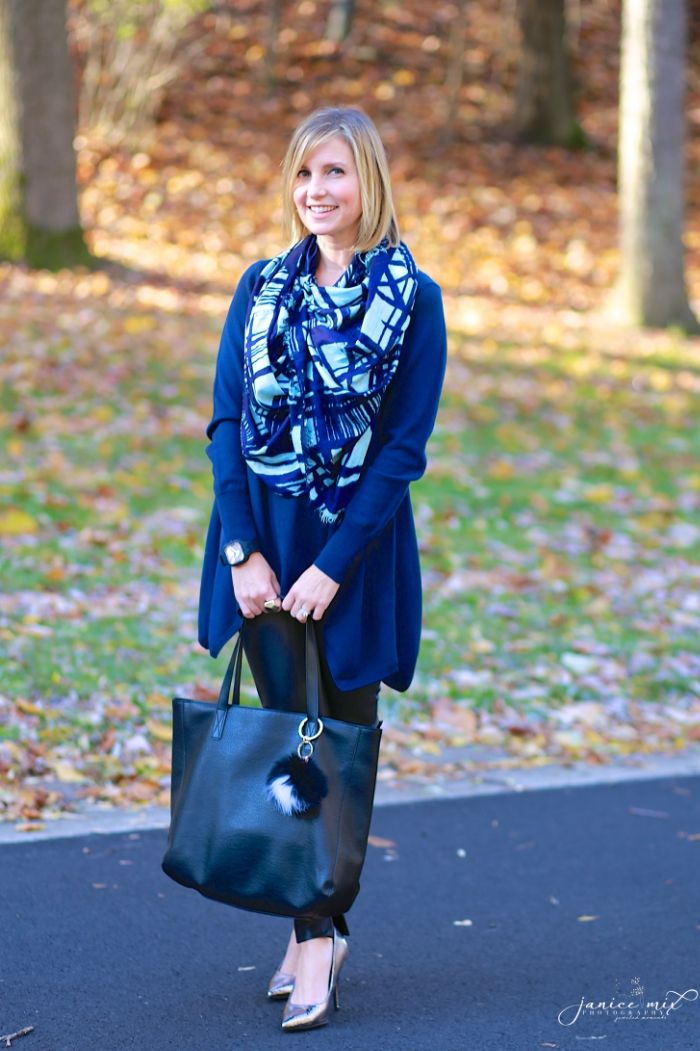 [coat:
Betsey Johnson
. scarf: c/o gentlefawn, sweater: H&M(old), leggings:
ZARA
, heels:
Target
[on sale now for $20!], bag:
Old Navy
, keyring poof: c/o Thursday Friday, watch: c/o
Modify watches
, ring: Old Navy]
Why YES I am wearing a parka in this post on November 6th. It's 30 degrees out here in upstate NY. [Or as I described it to someone recently-"Canada-Upstate] We are only a couple hours from the border so you can't get more upstate than that. I had the pleasure of working with the amazing photographer, Janice Mix on this one and I think she did a great job! Thanks J!
If you think you can't pull of leather leggings, It's your cheerleader here to tell you that yes you can! And I will do a toe touch to prove it. Pair it with an oversized sweater to tone them down and if you want to pull them off in a more casual setting, use tall flat knee high boots or even flats and a blazer to prep 'em up a bit. Three of my favorite gifts c/o the swag bag from the Lucky FABB conference are my 1. over-oversized Modify watch. You can custom design the watch by mixing and matching the face and strap. I love how chunky it is! Here is your $10 off coupon!
2. my poofy key chain from Thursday Friday. What an easy way to glam up a 30 dollar bag from Old Navy. This bag by the way is an amazing find! Love it in the burgundy too. 3. my gentlefawn scarf. perfect length to do my "celebrity knot" that I demonstrated on my
CW segment.
Convinced you can pull off the leather leggings? Give me an L! [L] Give me an E! [E] Give me a...ok fine you get where I'm going with this...