Throughout the winter months, I look in the mirror and see sallow, dull skin. I see chapped lips and more undereye circles. My rosiness looks more ruddy than a pretty flush. I stepped on the scale this morning and saw that I've gained 5 lbs. Ok, so that has nothing to do with my skin but it does contribute to my blah feeling about myself in January. Cue Bonnie Bittner, my friend and esthetician at the Del Monte Spa. I went to Bonnie to find out how I could spruce up my skincare routine throughout the colder months and this is what she told me...
1. Use a serum under your moisturizer that contains hyaluronic acid. HA is a substance normally found in the body but by using it topically, it helps your skin maintain it's natural moisture which we lose during the harsher temps and forced dry air. It's perfect for all skin types, even oily skin. I loved that Bonnie said "Yes, you can have oily and dehydrated skin! One is a skin type (oily, meaning produces too much sebum) and the other is a skin condition (dehydrated, meaning lack of water)." Makes total sense.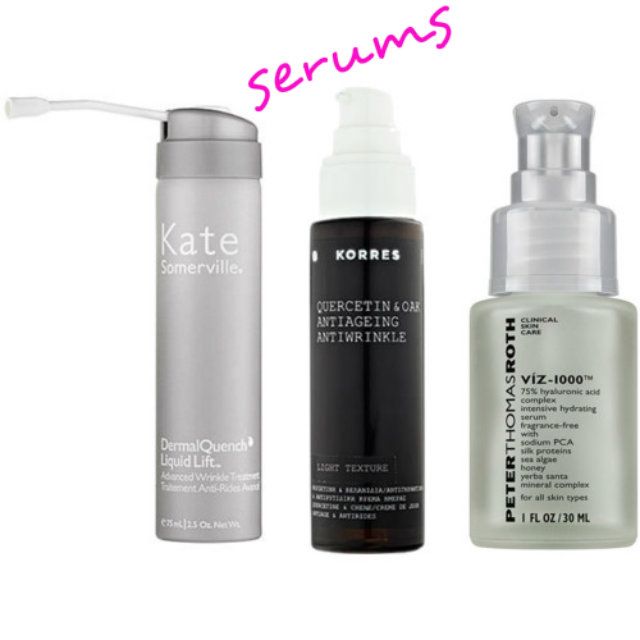 Korres Quercetin & Oak Antiaging Antiwrinkle and & Firming Face Serum $62
Peter Thomas Roth VIZ-1000 75% Hyaluronic acid complex $65
2. Next tip was to use a heavier night cream
or try a thin layer of a moisturizing "mask" at bedtime. Your skin will be gorgous, soft and hydrated when you hit the snooze button at 6 am.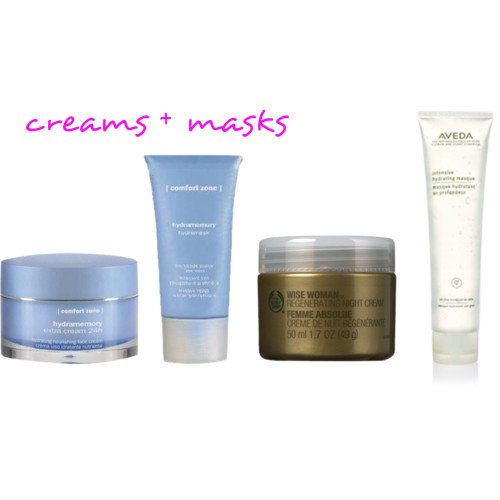 comfort zone hydramemory extra cream 24h or hydramemory mask

$25-50

The Body Shop Wise Woman Regenerating Night Cream $35
Aveda Intense Hydrating Mask $22
3. Lip balms are essential to keeping your lips from getting chapped. Nothing looks worse than a bright lipstick layered over chapped, flaky lips. I'm making a Britney X-factor face just thinking about it. Good idea to avoid lip plumpers as they tend to contain "irritants"to help with the plumping part but may end up chapping more.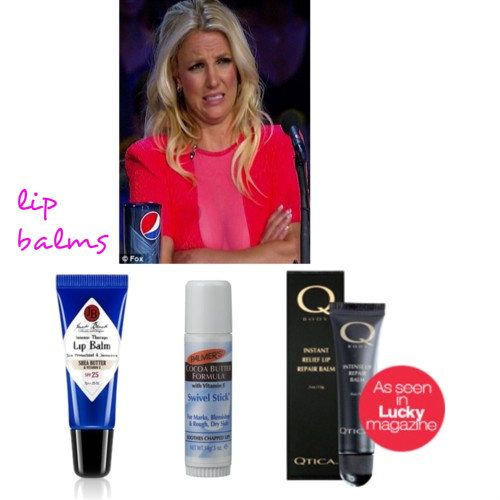 Jack Black Intense Therapy Lip Balm: Shea Butter and Vit E ~$7.50: Not just for the men! The smell is neutral and will even stay on throughout a workout.
Palmer's Cocoa Butter Swivel Stick ~$3.00: I keep this in my center console in my car and apply at just about every red light in the winter!
Qtica Intense Lip Repair Balm ~$12.00: Bonnie swears by this and apparently Lucky magazine does too!
*photos via images imported to polyvore